WrightOne Consulting, one of New Jersey's fastest-growing Professional Consultancy Services!
Get to Know George and the Powerhouse
WrightOne Consulting is a venture owned by a power couple, George and Cathy.
George is the brains behind WrightOne's consulting – a project management consultant with over 35 years of experience. His expertise lies in psychological assessment analysis, organizational assessment, as well as leadership development and training.
George actively hosts webinars in which he talks about personal development, project management, performance coaching, and coping with issues of organizational change.
Check out his webinars at wrightoneconsulting.com/on-demand-webinar-recordings
His top-selling webinars include Emotional Intelligence – The Keys to High Performance, Critical Thinking, and The Psychology of High Performance.
Cathy Wright plays an essential part in WrightOne Consulting's success. She actively leads the marketing and finance departments at the firm.
So, What Does WrightOne Consulting Do Exactly?
WrightOne Consulting believes better people make better organizations, and efficiently leading them is an art that modern-day businesses need to master.
The WrightOne Consulting team provides pre-employment assessment services, training and development, as well as executive coaching to help organizations cope with the following challenges:
Employee Selection
Leadership Development
Employee Training
Employee Selection
The cost of making a bad decision in the hiring process is significant. Some estimates suggest almost one-third of first-year earnings for each bad hire.
WrightOne can help organizations avoid those losses. Their progressive pre-employment assessment program is an independent, unbiased evaluation of an individual's strengths and capabilities. They describe how people will perform on the job. They identify things that simply cannot be learned from a resume or interview.
Most important, they give you insight at a critical time – before you hire.
Leadership Development
WrightOne is a leading consulting company with expertise in helping organizations develop their talent and help them meet their goals and address future leadership challenges.

They work with organizations to identify leadership development needs, assess their current state, and create customized training programs.
Employee Training
WrightOne focuses on crafting long-term creative solutions to deliver best practice training based on a selection of evidence-based learning technologies.

The company's training programs cover a wide range of topics, including emotional intelligence, critical thinking and the psychology of high performance, and more, helping organizations improve the performance of their employees.
How We Helped WrightOne Consulting Create A Dominant Presence Online
Our initial audit of their existing website helped us identify opportunities to improve the following website areas:
Visual Design
User Interface
User Experience
Website Speed Performance
Visual Design
The existing website was very basic and clunky and needed a complete design overhaul to match the client's vision. Therefore, we completely redesigned the website and made it more appealing and sophisticated for customers.
User Interface
We redesigned WrightOne Consulting's website to provide users with the ultimate user experience, one that requires them to interact with the website with the least effort.
For this, we kept the website clean and minimalistic and updated elements such as pictures, fonts, and CSS to make the site look modern and easy to scroll through.
User Experience
We identified the needs of their users through personas, which illustrated their pain points, solutions to their problems, and what they're exactly looking for.
With the personas in place, it was easy to design a customer-centric site that was easy to use and met most of their problems.
Website Speed Performance
It is crucial to have a fast-loading quality website to rank high on Google. So, our developers and SEO manager worked to increase the website's speed by using a variety of tools and by following SEO best practices such as reducing redirects, optimizing images, and enabling compression.

As a result, we were able to develop a website that performed 2X faster.
Important Note to Takeaway: Crafting A Winning Homepage Is Critical!
A powerful homepage is essential since it sets the tone for a winning website, is a real engagement booster and serves as the first impression on a customer.
A homepage serves as the introduction to a website. In most cases, it establishes a brand's image in front of customers and directly leads to sales. Getting the homepage right means attracting and converting more clients.
We spent time crafting the homepage that resonated with their niche-specific audience and helped them interact directly with their ideal customers.
Here's how the finalized homepage looked: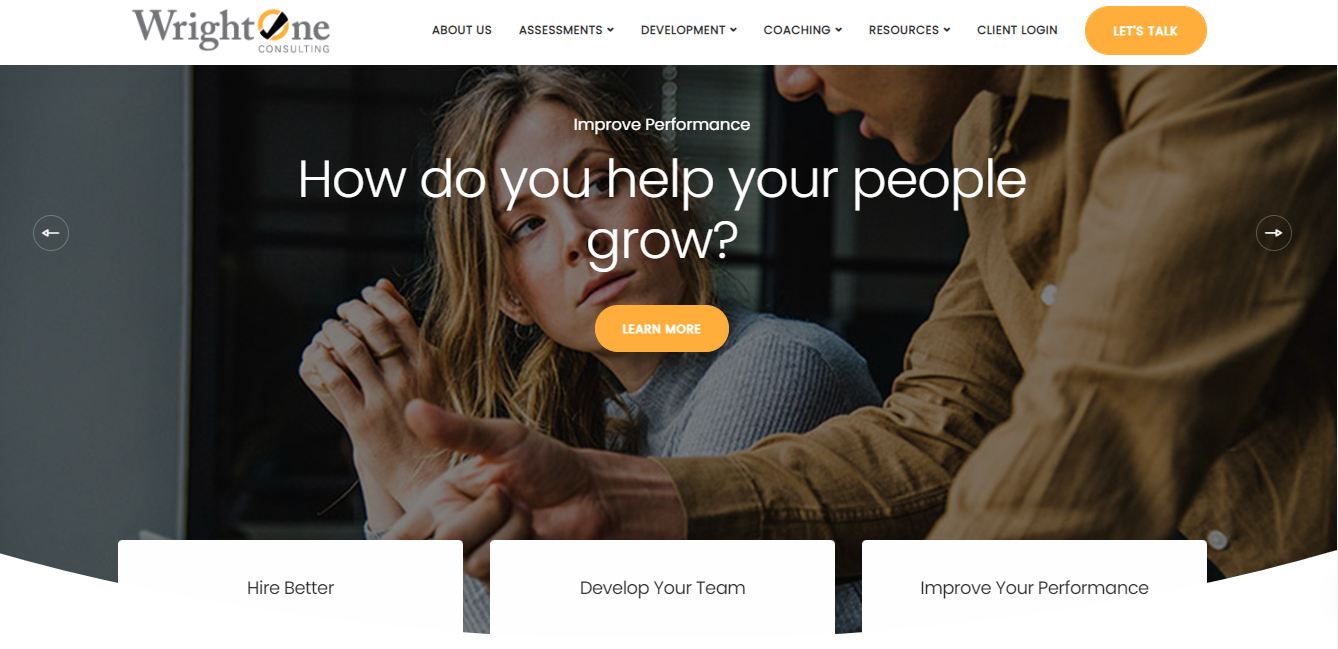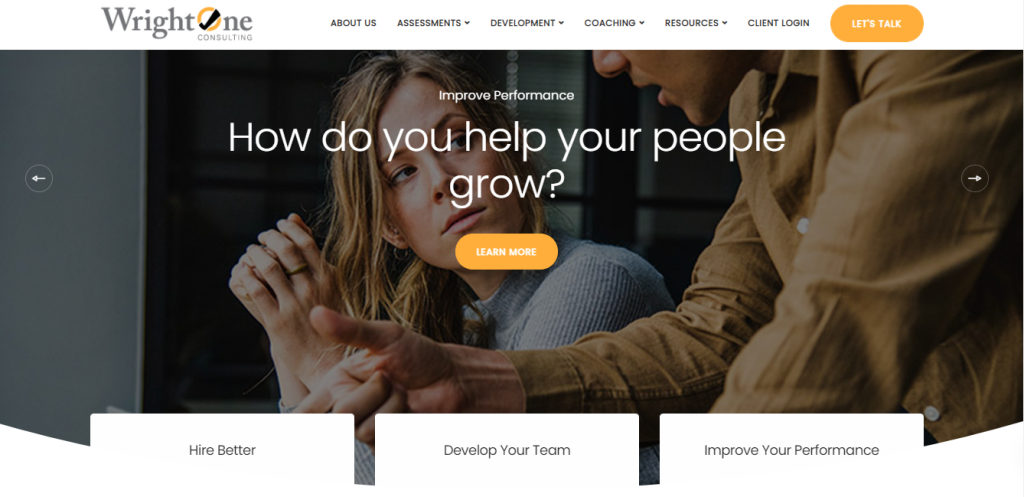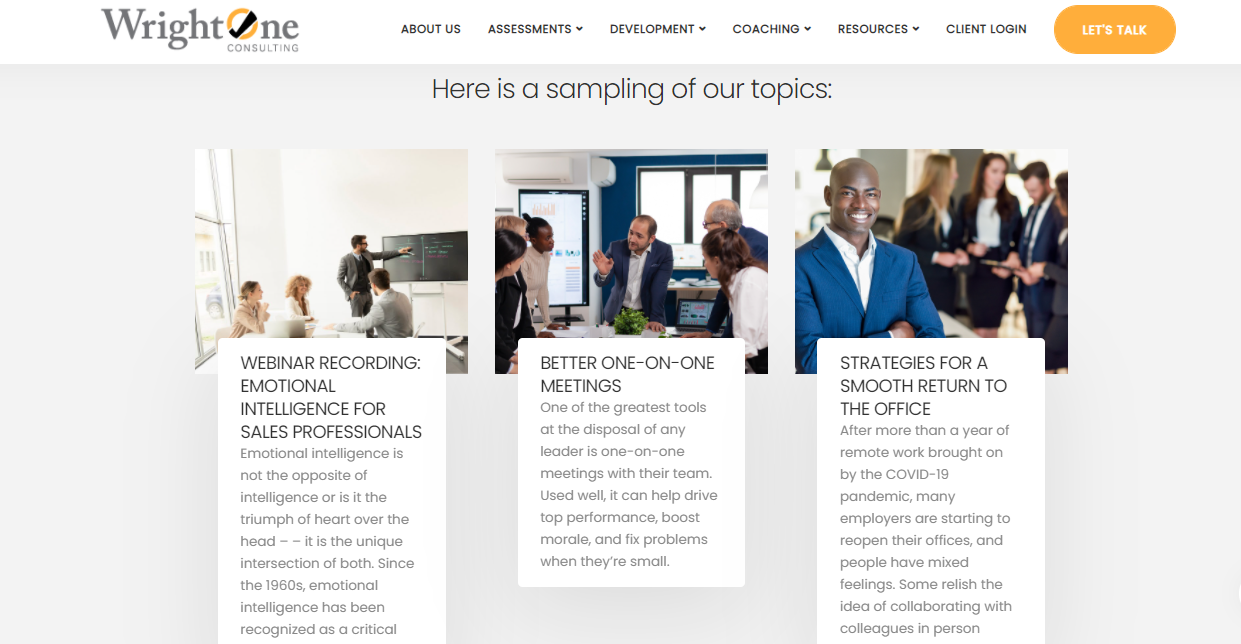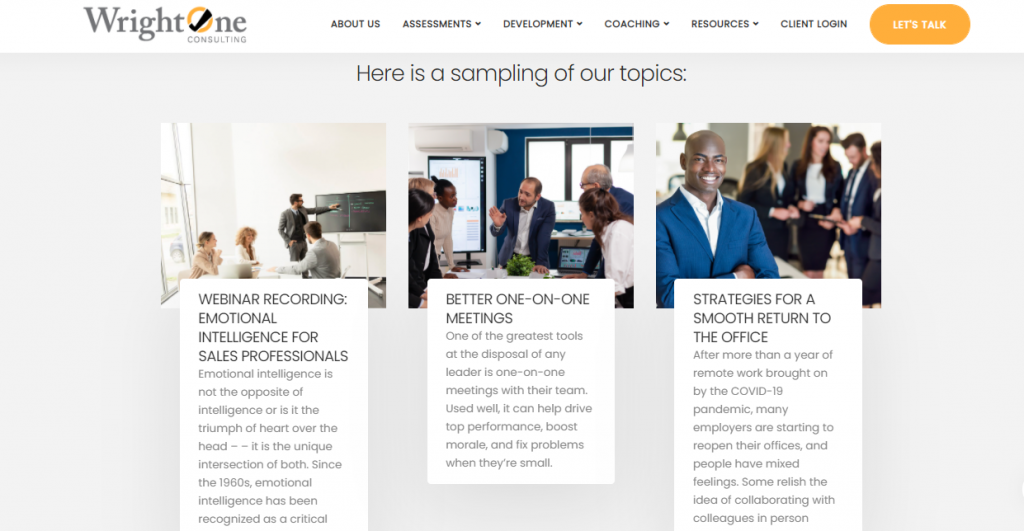 Find Out More About WrightOne Professional Consulting Services
Executive Coaching
Apart from selection and employee training and development programs, WrightOne Consulting works with leaders in achieving growth in their personal and professional lives.

Their consultants work with leaders to help them identify and practice new behaviors and strategies for growth.
Performance Coaching
WrightOne Consulting offers a team of professional performance consultants. They focus on helping individuals, teams, and organizations elevate their performance at work.
If your organization's staff is underperforming, less motivated, and not growing in their designated roles, WrightOne's professional consultants can help overcome any of these issues impacting their performance and effectiveness.
If you're looking to transform your workforce into high performers and develop better leaders, try WrightOne Consulting Professional Services!
The About Us Page
Displaying the About Us page in the main navigation bar was not part of the client's original plans. However, as the project progressed, it became clear that websites in the management consulting industry must contain informative About Us sections.
About Us Page Layout: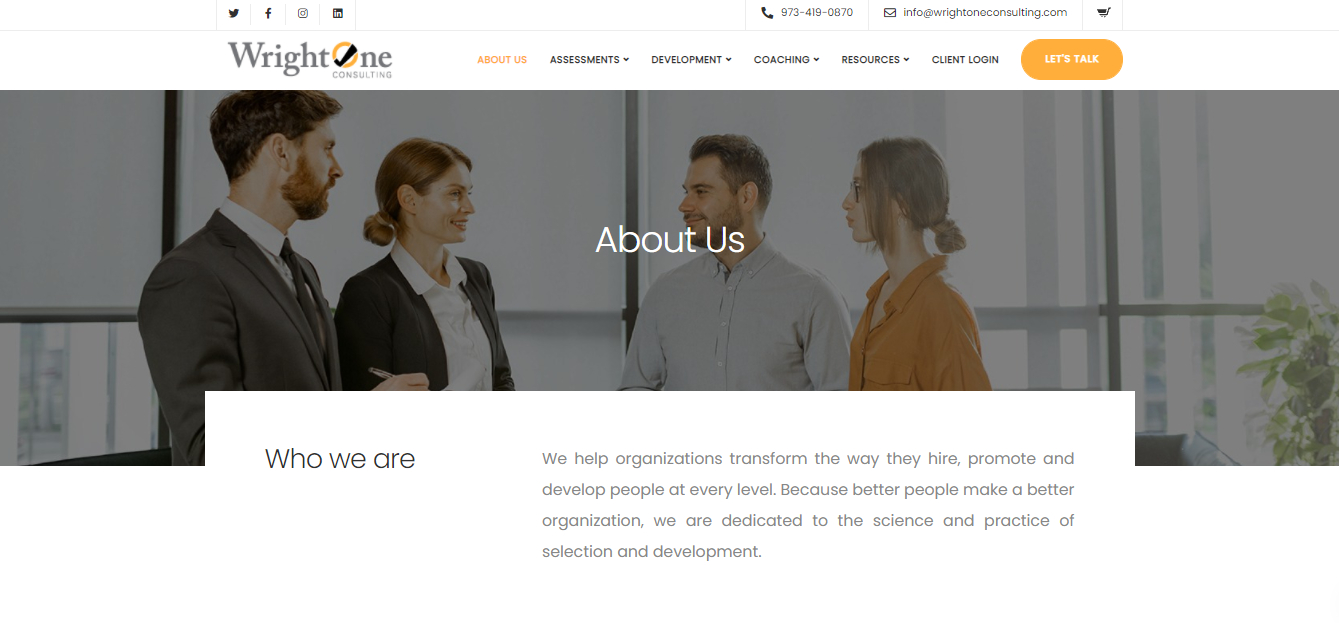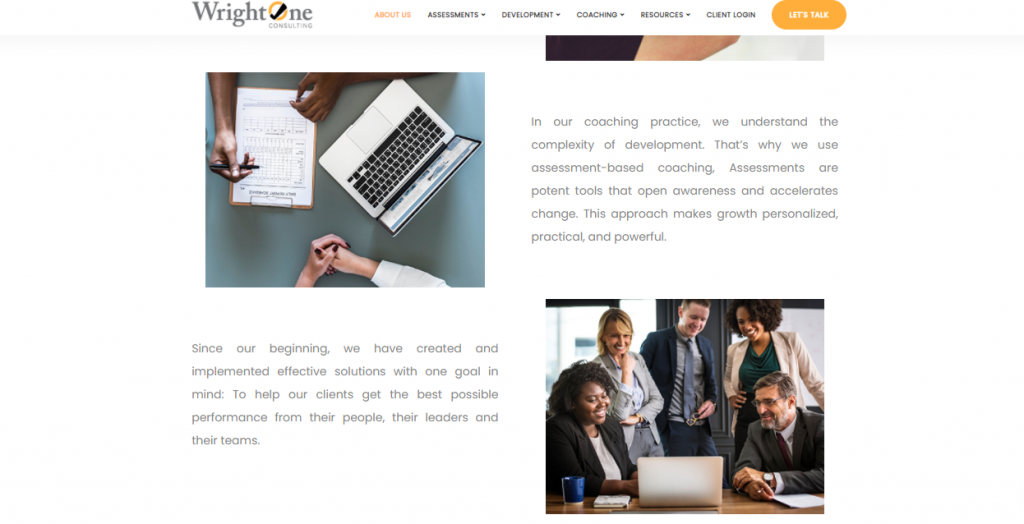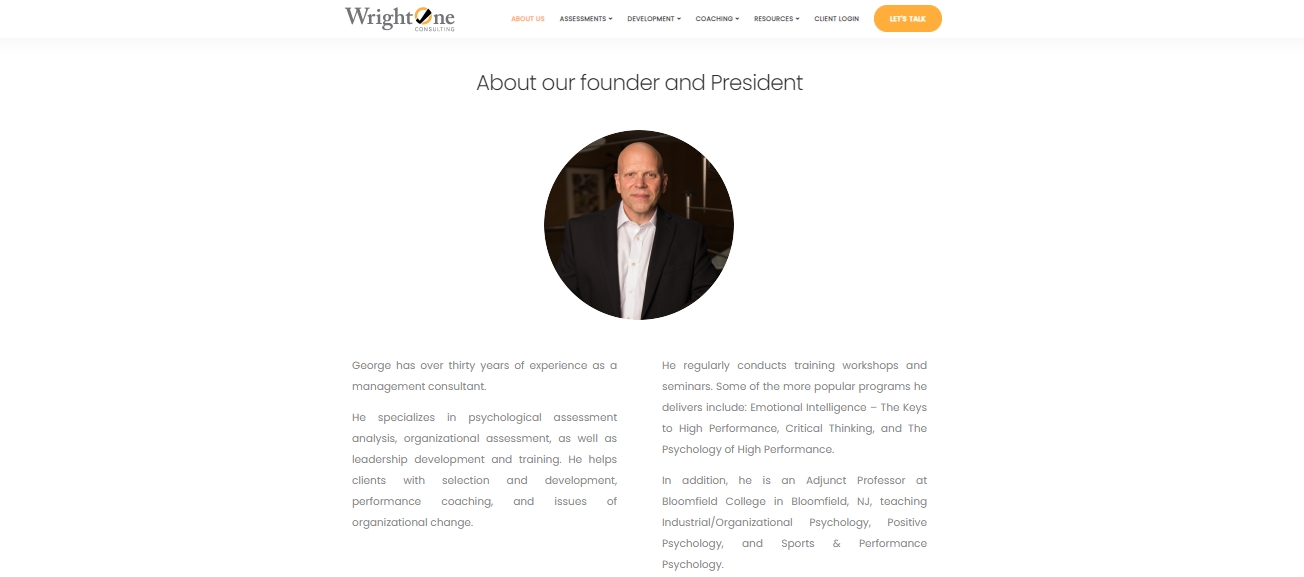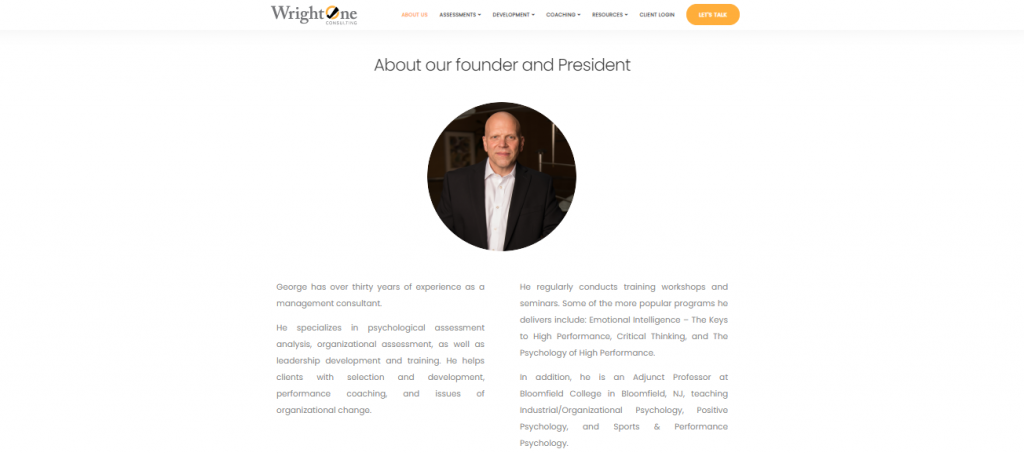 Key Platform Features:
Putting our heart into building up the WrightOne Consulting website resulted in a platform with modern features and integrations, including:
Integration with Hubspot
Mailchimp Integration for Marketing
Integration with Stripe for Secure Payments
WooCommerce Integration
Client Login Section
On-Demand Webinars
Calendly Integration
Client Reaction & Feedback
Although presenting the final website is never an easy task (As one can never gauge how a client is going to feel), nothing is more fulfilling than bringing a valued client's vision to life!
When we presented the website to George and Cathy, they were absolutely delighted and personally thanked everyone on the dev team.

Here's what Cathy said in response to receiving her website, "We absolutely love the feel and look of the website. You guys just nailed it. So again, a job well done".
Need a New Website or a Website Redesign? Get Started Here
At TechNerds, we make it easy for businesses to make a solid online presence and enjoy success in the digital sphere. Though it does take time and cost, we offer a smart and affordable way to help you fund your project needs with our Flex-Pay Program.

Get in Touch With the WrightOne Consulting
As Henry Ford said years ago, "The only thing worse than training your employees and having them leave is not training them and having them stay." No matter how old the maxim is, it's timeless!
This is why WrightOne's professional consulting services can help your organization hire better, develop your team, and support your leadership development efforts.
Get your organization running at its peak with WrightOne Consulting. Get in touch with them!

Or go behind the scenes and discover more about their team and services by exploring their LinkedIn and Facebook.
In Conclusion, Why You Should Partner With TechNerds
We love working with entrepreneurs, startups, and businesses to develop and launch new ideas, websites, and mobile apps.
It's time for you to take a bold move and dominate your market niche like WrightOne Consulting!