Why Our PPC Management Services
Are Better than the Competition
TechNerds' PPC specialists help you acquire more potential customers to increase your ROI faster while elevating your brand's visibility on top search engines to generate higher traffic & conversions.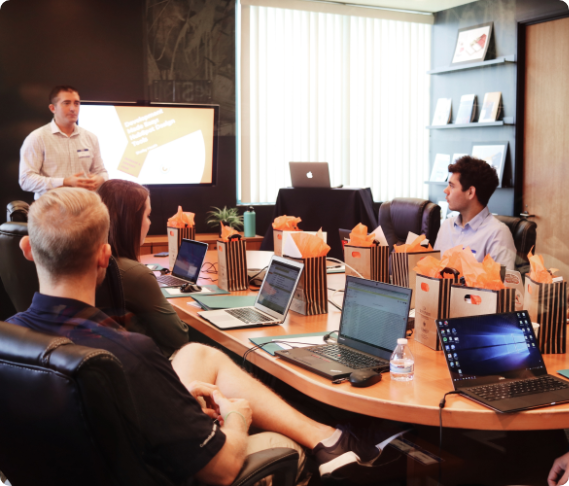 Our PPC Services Stack
Faster ROI

Boost your brand & return on investment (ROI) faster with our expert PPC Advertising strategies and pay-per-click packages to help you attract quality traffic, increase conversions & drive sales.

Campaign Report Management (CRM)

Our PPC Campaign Report Management Services help you determine the current market environment and implement verified PPC strategies for positive results.

PPC Landing Page Creation

Impress your visitors and generate more leads with a modern, visitor-friendly PPC landing page to enjoy greater results from your PPC Campaigns

Greater Leads & Sales

Target higher-quality leads with the right keywords & watch the magic unfold as more and more prospects turn into sales with our PPC strategies.

PPC Campaign Setup

Avail optimum Ad campaign setups with our PPC strategies to increase your chances of getting more sales.

Reduced CPC

Our PPC specialists work hard to ensure you benefit from Reduced Cost-Per-Click (CPC) with a higher campaign quality score whenever possible.

Real-Time Bid Management

Our Pay-per-click consultant is always available to manage bids in the best way possible to ensure that your campaign budget is never wasted.
Full Service Digital Agency
From Web and Mobile App Design & Development to Online Marketing Campaigns, TechNerds help brands and businesses increase visibility, engagement, and revenue.
Achieve quick business results with effective PPC Management Services that transform clicks into conversions today!
Pick Your Pay-Per-Click Package
& Avail a free PPC Audit!
SILVER

$800

2 Days Delivery
Account setup
2 Suggestions
1 Audience Targeting Suggestion
4 Ad Extensions
Campaign QA
Ongoing Management
Business Analysis
Campaign Type Recommendation
Campaign Budget Splitting
Alpha & Beta Campaigns Set-Up
Advanced Keywords Research
Compelling Ad Copies
SQR Analysis
Quality Score Analysis
Negative Keywords Addition
A/B Testing Of landing Pages
Text Ad Extensions
Automated Extensions Review Analysis
Automated Rules
Bulk Changes
Review & Report


GOLD

$1500

7 Days Delivery
Account setup
6 Suggestions
10 Audience Targeting Suggestions
6 Ad Extensions
Campaign QA
Ongoing Management
Business Analysis
Campaign Type Recommendation
Campaign Budget Splitting
Advanced Keywords Research
Compelling Ad Copies
SQR Analysis
Quality Score Analysis
Negative Keywords Addition
A/B Testing Of landing Pages
A/B Testing Of Ads
Text Ad Extensions
Automated Extensions Review Analysis
Automated Rules
Bulk Changes
Review & Report


Custom

$2400

14 Days Delivery
Account setup
10 Suggestions
20 Audience Targeting Suggestions
8 Ad Extensions
Campaign QA
Ongoing Management
Business Analysis
Campaign Type Recommendation
Campaign Budget Splitting
Advanced Keywords Research
Compelling Ad Copies
SQR Analysis
Quality Score Analysis
Negative Keywords Addition
A/B Testing Of landing Pages
A/B Testing Of Ads
Text Ad Extensions
Automated Extensions Review Analysis
Automated Rules
Bulk Changes
Review & Report


We are Grateful to Work
with Amazing Clients