What is Study Elements Marketplace?
A lot of college students get by on shoe string budgets and often find online study resources hard to afford. Their ceaseless online searches for effective study materials at affordable rates often turn into massive disappointments. But like most of us who raise their hands in disbelief and simply give up, one person actually decided to change all that. This person was Maria.
Maria herself had encountered such situations during her college days which prompted her to solve this problem with an innovative idea. She approached us for collaboration in setting up an education marketplace for students. A platform where they could find study guides, hand notes, and books to support their academic endeavors in a few easy clicks.
So we helped her in developing a crowdfunded platform that offers quick and on-demand study resources to help students ace their academics. The client was looking for a multivendor marketplace where professors and students from different academic backgrounds could conveniently share their study material and subsequently benefit from it. As always, we were more than happy to deliver.
So what makes study elements unique?
Well, for starters, it's not a location-specific marketplace. Instead, the platform aims to encourage global participation by operating globally. What's even cooler, is that it's not only for English speakers, rather, students from all over the world can view subjects in their own languages. Now that's what we call making a real difference.
About the Client – Who's Maria?
You don't wake up every day to work with a differently-abled person and never let her disability (deafness) come in her way. Maria is a St. Cloud State University Graduate filled with a passion to give something back to society.
She is currently working at Indiana School for the Deaf where she helps her students overcome their hearing deficiencies . Additionally, she owns an online education marketplace that offers useful study materials to college and university students.
Getting Started With the Project:
The team made sure they are on the same page with the client before heading into the website development process. Also, Maria's homework helped us get started on the project on the right note. She provided the team with clear instructions about what she wanted and provided all the necessary information to help us kick things off smoothly.
Now with the ball in our court, we started executing her project roadmap from scratch. We took our time in defining the workflow and identifying essential features for the website. Our efforts helped us cut through the clutter on our table and meet project goals effectively.
Check out some cool features we incorporated in her platform:
Project Features
Individual Seller & Buyer Profiles
An all-integrated Shop
Literature Editing
Sharing and Downloading
Email Communication
Integrated Chat
The Challenge:
Getting seamless communication to work was the most challenging part of the project. Since Maria was deaf, online video meetings on Skype or Zoom could not be arranged. So, we had to keep in mind her comfort while suggesting her a proper communication medium.
Using our custom collaboration software; we tracked everything related to her project and utilized It to maintain thorough communication with her by sending her daily standups and weekly reports along with other essential data. Moreover, we even used WhatsApp and emails for project discussions to ensure no gaps arise in our communication.
Kudos to our project manager who was able to streamline every step of the process and complete the project on time.
Featured Work
An Innovative Crowdfunded Education Marketplace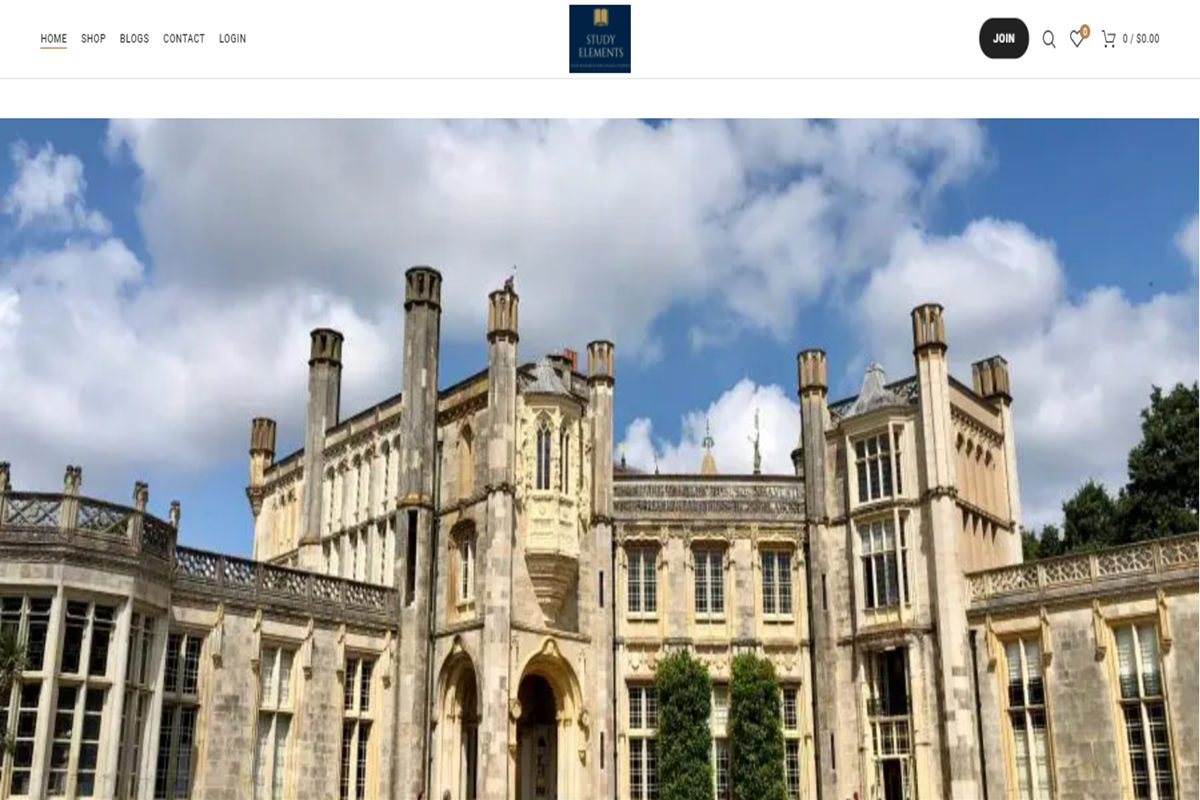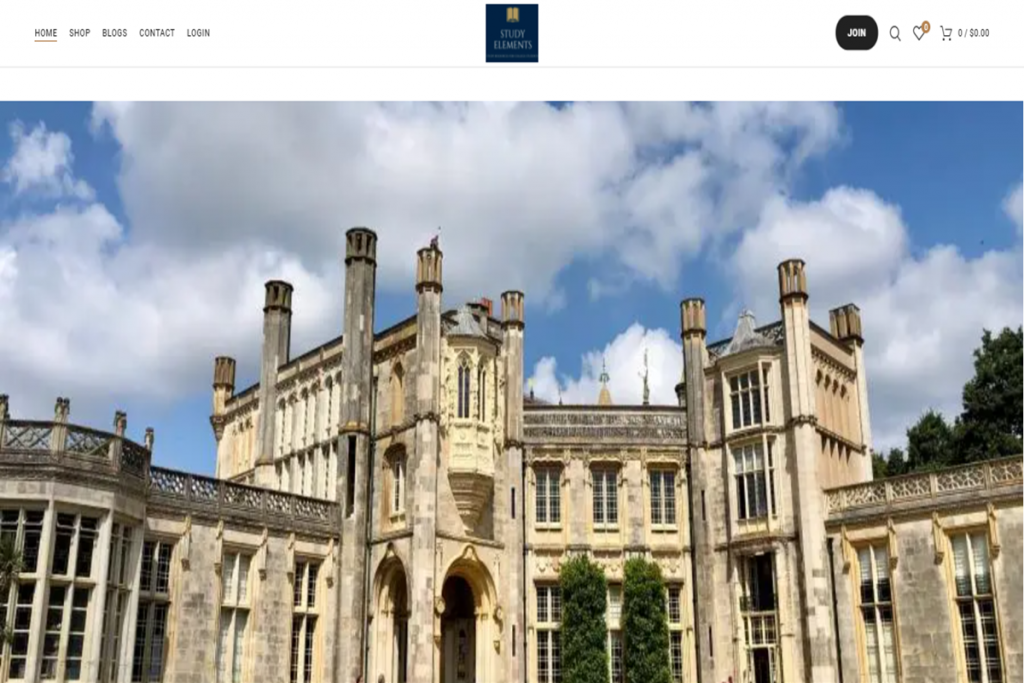 The Study Elements marketplace is a multivendor platform connecting buyers (college/university students) with sellers (professors, expert writers, and senior university students) from different educational backgrounds to leverage useful study-related materials such as books, notes, and other literature.
Global Participation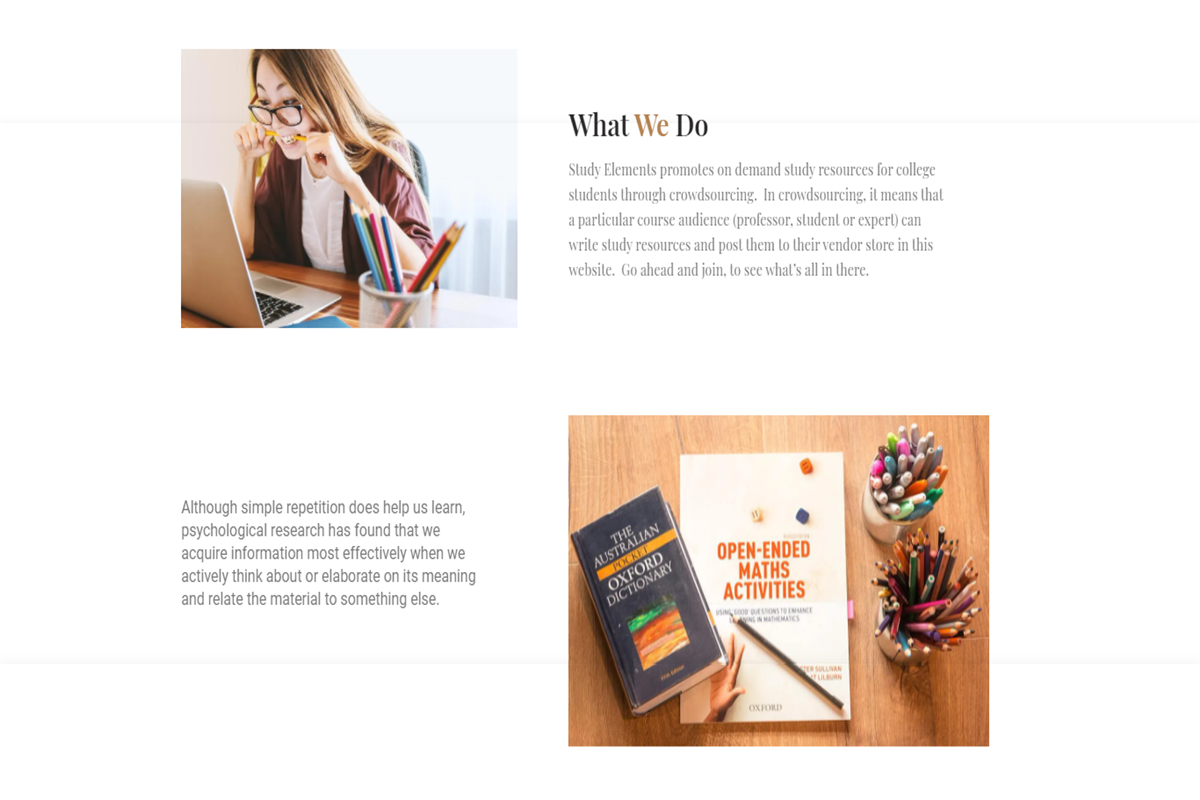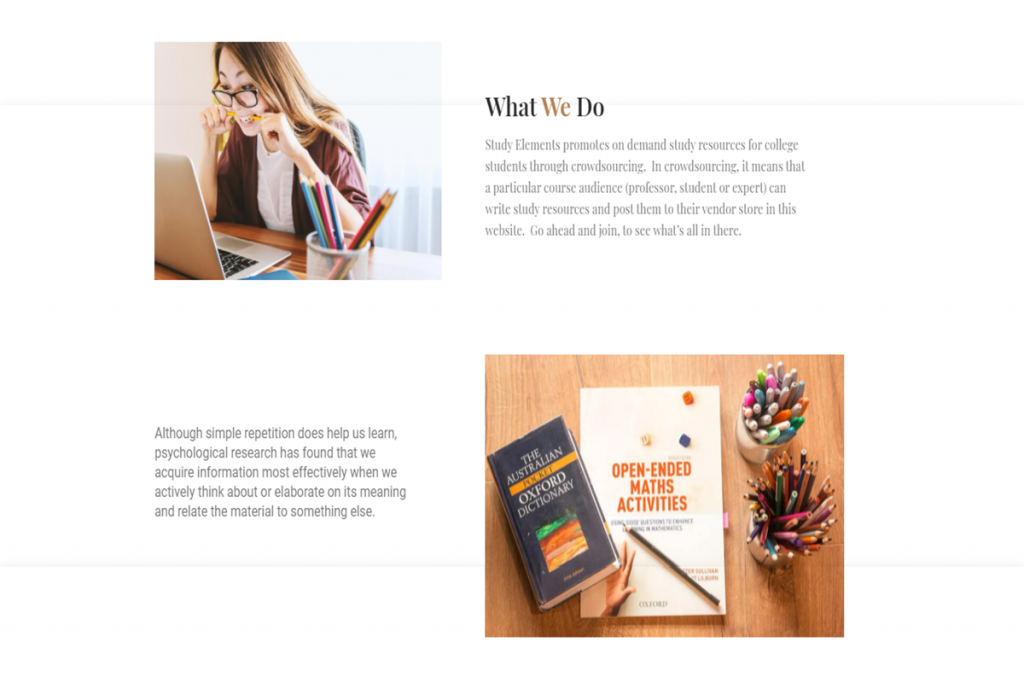 Normally, such platforms are location or language-bound, but the Study Elements marketplace envisioned global participation. No matter where you're from or what your native languages, you can find supporting study materials from a diverse range of available resources on the platform.
Need-Based Study Resources on Demand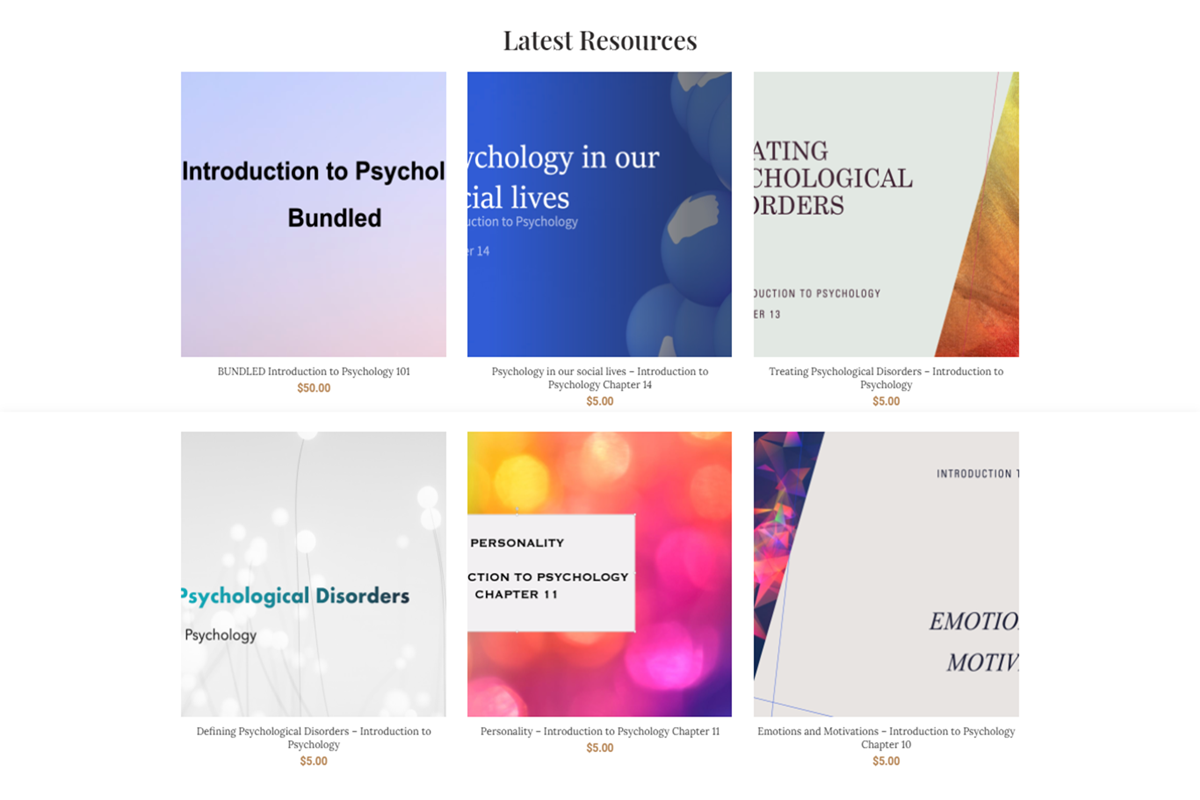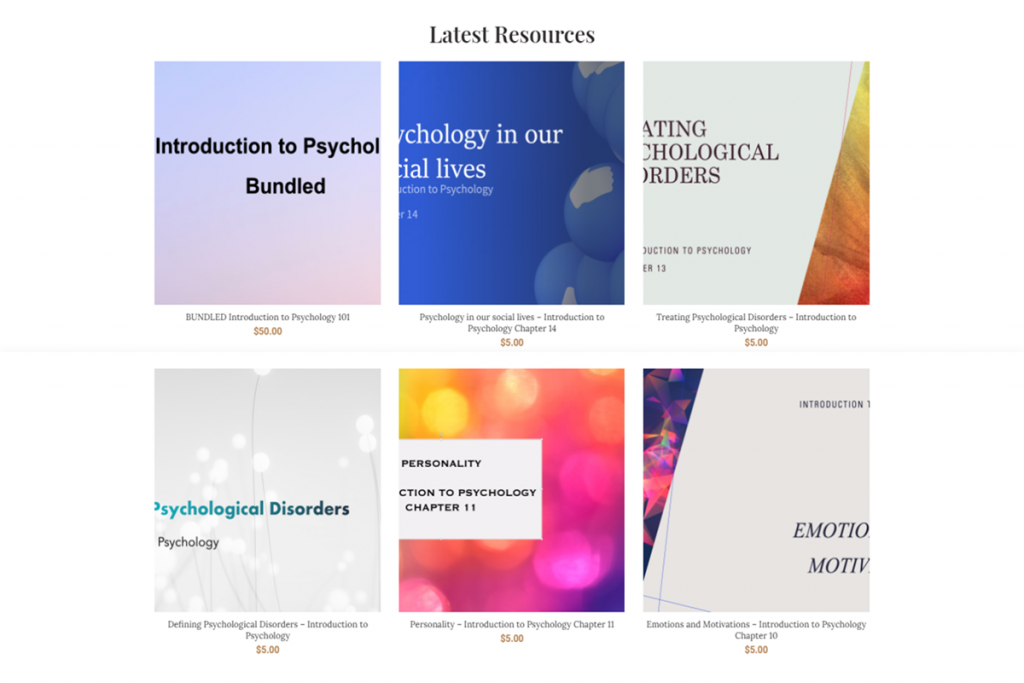 The education marketplace allows both professors and freelance writers to join the platform and offer their research guides/notes. This makes the platform an on-demand one-stop-shop where students from any class and subject can locate supporting study literature that can benefit them to excel in their studies. Additionally, WordPress Quiz Plugin can be integrated into the platform to create interactive quizzes and assessments, enhancing the learning experience for students and providing valuable feedback to educators.
Seamless Chat Medium
The integrated chat medium within the website greatly reduces redundancy by letting all stakeholders communicate effortlessly. Students can easily interact with sellers to shape their decisions before purchasing a particular book/guide.
Additionally, sellers can inform students about their new inventory, discounts, and resources for studying.
Key Takeaways
Working with Maria was a unique experience since you don't normally get a chance to work with a differently-abled person. She is a strong individual who pursues her business ideas with conviction. She aims to change the world through education accessibility and we're more than happy to have enabled her to do so.
1.
We delivered to her an education marketplace that helps talented students access study resources on minimal budgets worldwide. Through our collaboration, we helped her streamline education by developing a multivendor marketplace where both sellers and buyers meet for mutual interests.
2.
The discovery period helped us sketch a plan to incorporate three core aspects into the website. A detailed seller profile for buyers to know from whom they're buying, where the writers come from, and the authenticity of the resources. The client also wanted a side search running through the website that allows students to search for courses and writers.
3.
The client requested a secure and fast payment processing setup integrated into the website with no ambiguity at all. We delivered by incorporating Stripe and PayPal as its primary payment gateways so that buyers can enjoy a swift and reliable payment process.
4.
Having a beautiful website is one thing, but getting traffic to it is quite another. In Maria's case, we optimized her website for better SEO and lead conversions. Thanks to the combined efforts of our developers and SEO experts, the Study Elements marketplace saw an instant flow of traffic within a month of its launch date.
Don't Let Your Entrepreneurial Spirit Die
Executing a perfect startup idea is never easy since there are many aspects you have to deal with solely. Successful startups need to make the most of their choices right and take fearless actions from the word go to enjoy durable business success.
TechNerds serves as your ideal launchpad for helping you propel your startup idea to the next level by offering the right expertise. We are your one-stop digital agency providing services including website, sop writing services, design, mobile app development, digital marketing, SEO, social media marketing, and much more.
If you want to give your startup a perfect foundation just like Maria, Get in touch with us today.
Also, read how we helped Robyn D Jefferson deploy her CPA firm's modern website here.