This is a case study on a modern website we delivered to one of our top clients Robyn D Jefferson for her CPA startup! This in-depth study sheds light on our collaborative process and reveals all the work that goes into bringing a client's vision to life! Enjoy a bunch 🙂

Reach us for a free consultation now
So you've made it to our Client Throwback series, and boy, are you in for some (wait for it…) inspiration instigation!
We're bouncing off the walls right now (and a tiny bit nervous!) because the person we're about to introduce here is no less than a rising star in the world of accounting.
It's time for you to meet Robyn D Jefferson (no connection to the old man you're thinking about!)
So Who Is Robyn?
Good question this!
For that, we'll have to rewind all the way to 2007. Back when Jobs had just announced the first-ever iPhone, Bush had freshly taken on the mantle as president, and a young lady named Robyn was concluding her bachelor's in Accounting to set foot in the professional world.
With a drive to move forward and an immense passion for numbers, Robyn skimmed through a decade, making a name for herself as a financial advisor. Possessing a charisma seldom seen and a penchant to go the extra mile for clients, she quickly made a reputation as a unique, savvy & forward-thinking individual.
It wasn't long before she also added the much-coveted CPA certificate to her impressive resume.
Fast forward to the present
Today, Robyn is a full-time member of the Texas Society of CPAs, lending her service to several core committees. She also does her bit in helping underprivileged communities to learn financial literacy. All this, while being a wife and a mother!
Not only that, she is at the helm of a fast-growing and successful CPA firm operating with her namesake, "Robyn D Jefferson CPA PLLC." It's this startup that began TechNerds collaborative relationship with Robyn.
But before we dive into it, let us answer this burning question in your head.
What does Robyn D Jefferson CPA PLLC provide?
Robyn D Jefferson CPA PLLC is a Certified Public Accountancy (CPA) firm that takes care of all your financial stress!
Whether it's expert advice you seek on taxation for yourself or your business, or you're looking for an excellent CFO to assist you in crucial business situations, simply outsource all your finance-related worries to Robyn, and she will see to it that you ace out of every financial hassle like a pro!
So why take on finance yourself when you're surrounded by the genius of Robyn? Pay her a visit and see how she can assist you!
Client Journey: An Entrepreneur Is Born
It was in June 2020 when TechNerd's first got a chance to interact with Robyn, and we have to confess, we were pretty impressed.
Robyn wanted to collaborate with us on bringing her CPA start-up to life by delivering her a modern website.
Now there are VERY few things we like more than working with start-ups (probably only pizza!), so this was a no-brainer.
Getting Started
From the beginning of our team's first discussion with Robyn, It was evident that she had done her homework and possessed a clear idea of what she wanted to achieve with her website.
She'd already chosen and set apart the stylistic aspects of her project for our reference (This helps tremendously because it helps us narrow down a client's vision)
From the fonts she wanted to use to the color palette she wanted us to incorporate, from her desired website layout to her favorite theme, everything lay bare like an open book.
Now the ball was in our court.
Designing A Brand Identity
Unique Brand identity is what differentiates a brand from its competitors. Its logo, images, web design, and values must all reflect through the visual aspects of a brand.
In the case of Robyn D Jefferson CPA startup, she had strong ideas regarding the kind of message she wanted her brand to embody.
A forward-thinking individual by nature, she wanted her brand to reflect that sentiment. She strived for a website that pitches convenience through technology, an Accountancy practice that breaks away from the norm, and a business model that is a realization of the future.
Armed with all these insights, our nerds took on the challenge of bringing Robyn's vision to life.
Our design team began by crafting a logo that sheds light on her strong personality as an individual, creates recognition for her personal brand, and reflects true professionalism which is a hallmark of her personality.
Take A Look At Robyn's Logo Design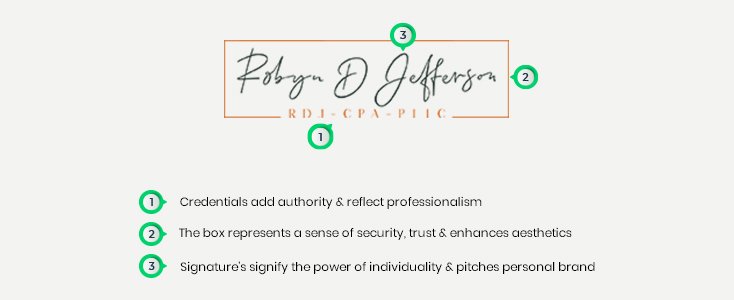 Shades Of Robyn D. Jefferson
In the world of branding, colors take on a very significant role. This was Robyn's preferred color palette, and it's easy to see why. Take a closer look at what Robyn's website colors symbolize.
Rose Gold

One of the three core colors used on Robyn D Jefferson's website is Rose Gold. This communicates luxury due to its association with precious metal and frequent use in jewelry. Gold is a wealth marker, so rose gold is often associated with style, elegance, and affluence. Since Robyn herself deals with wealth management, this is a great color to utilize.
Antique Brass

Antique Brass stimulates a positive attitude, a sense of calm, and trust. It often shines the most when paired with rose gold.
Soft Amber

Due to its warmth and radiance, Amber is connected to energy. Its vibrance inspires feelings of happiness and boldness. Based on color psychology, amber symbolizes and promotes confidence and comfort.
Typography
We utilized a Sweet Square Heavy Small Caps Font for the website to give it a clean & contemporary feel that is comfortable to read, blends well with the web theme, and aligns with Robyn's forward-thinking approach.

On-Page Animations

Keeping in line with our promise of delivering a website that embraces modernity, we incorporated website animations on the homepage to make the website experience fun and engaging.
Robyn's Website
Now that we've described the science behind each element, this is how Robyn's modern CPA website blends all of them.
The Homepage (HP)
The "Homepage" is one of the, if not the most important, pages on a website. It sets the tone for what your visitors can expect from the rest of the website.
In Robyn's case, We went with a modern minimalist design. We placed a custom GIF specially bought for Robyn's website. All web elements blend with Robyn's personality and vision of embracing the future, breaking stereotypes, and being engaging.
1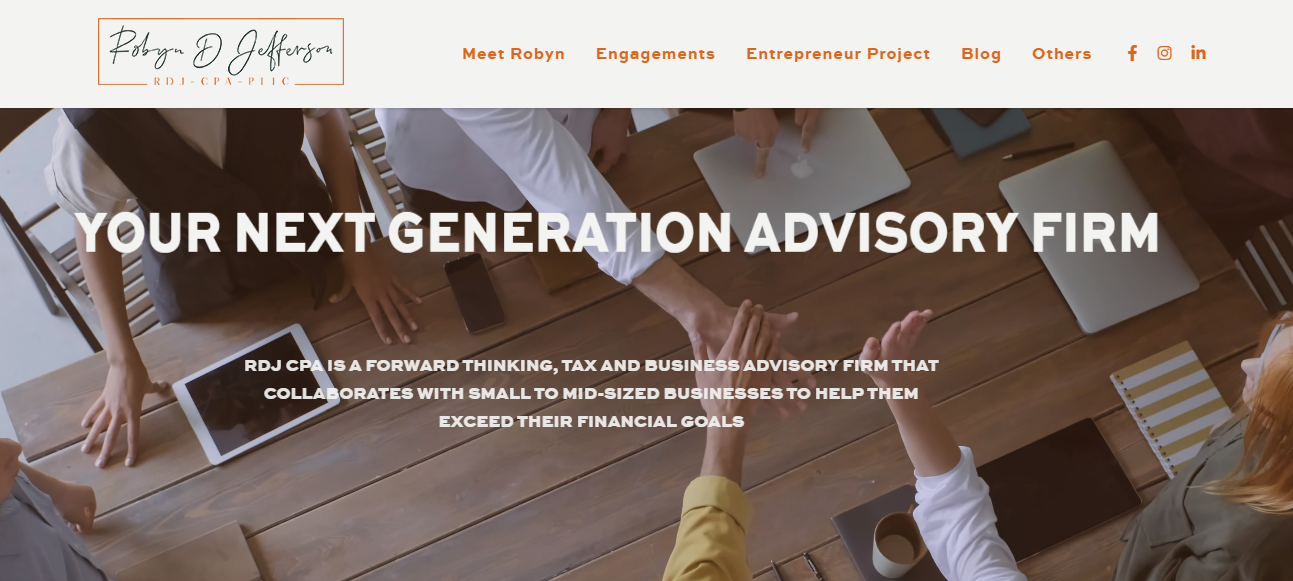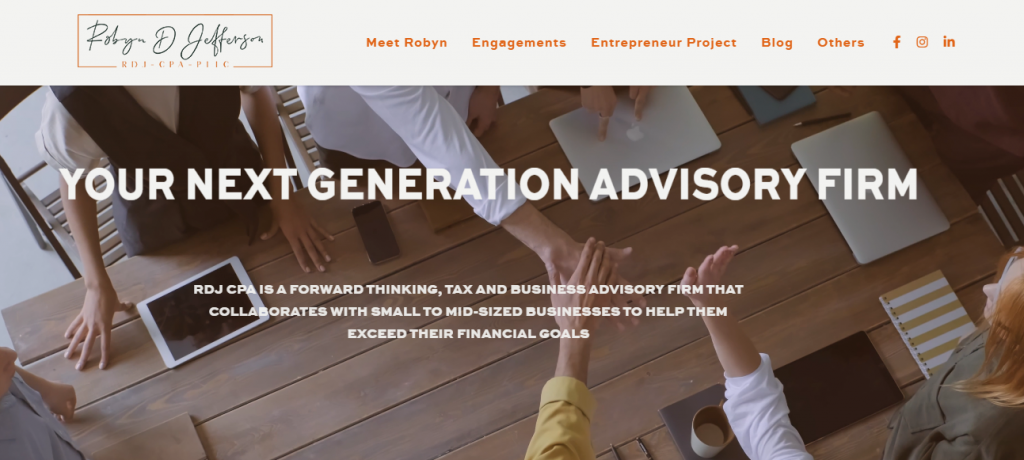 2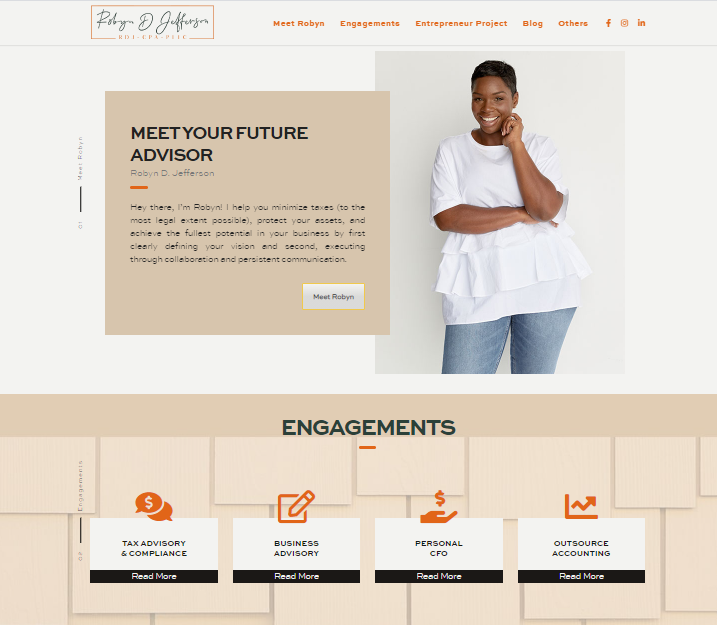 3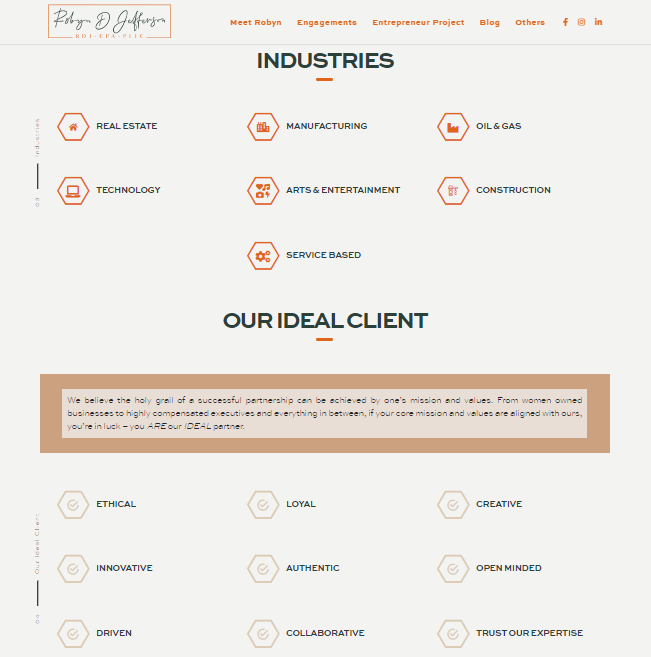 "About" Section Explaining What Robyn Does In Detail**
Take a look at Robyn's About Section. In Finance, trust is everything. Since Robyn is a brilliant story-teller herself, we wanted the piece regarding herself to shine the most.
Take a look at Robyn's About Section here.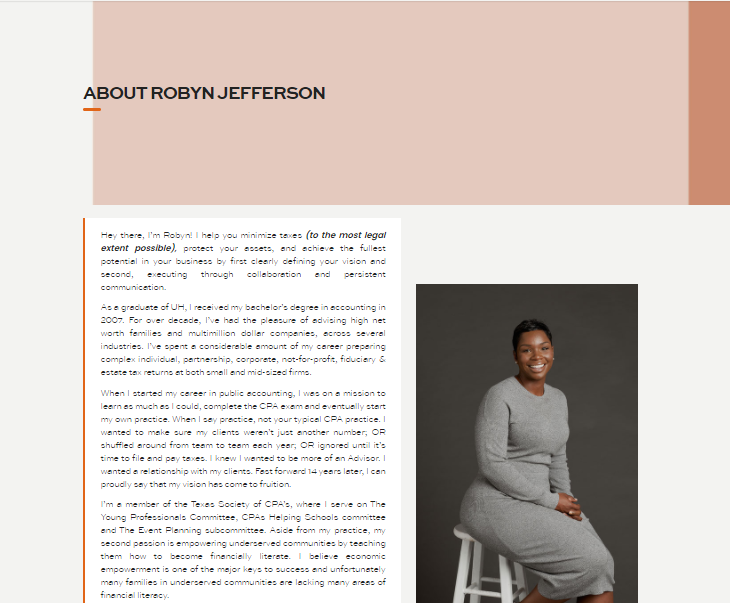 Engagements page is the one where Robyn showcases the services she offers.
Her financial services are listed under 4 core categories. This provides an ease to website visitors in navigating easily and reaching their desired service in a jiffy!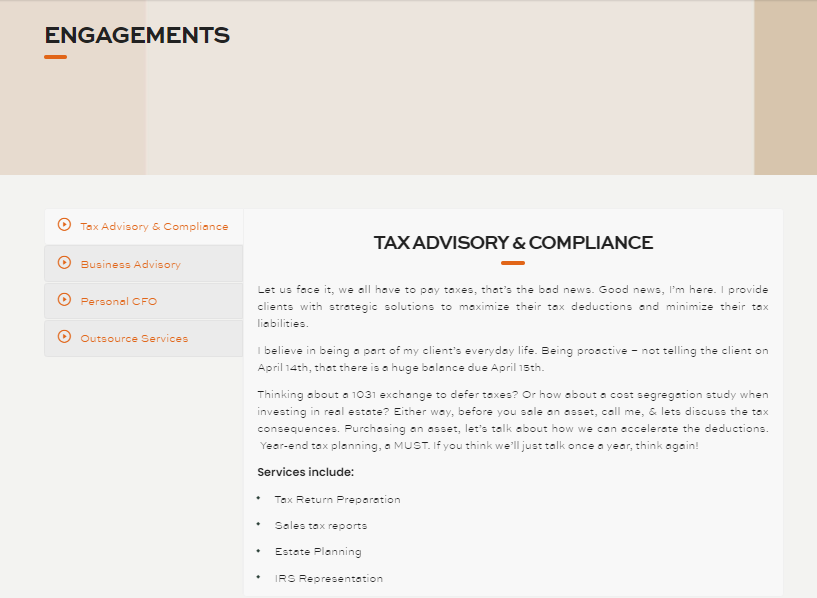 "Entrepreneur Project" Page
Here, Robyn Helps You Deal With all Financial Complexities when setting up your startup from A to Z.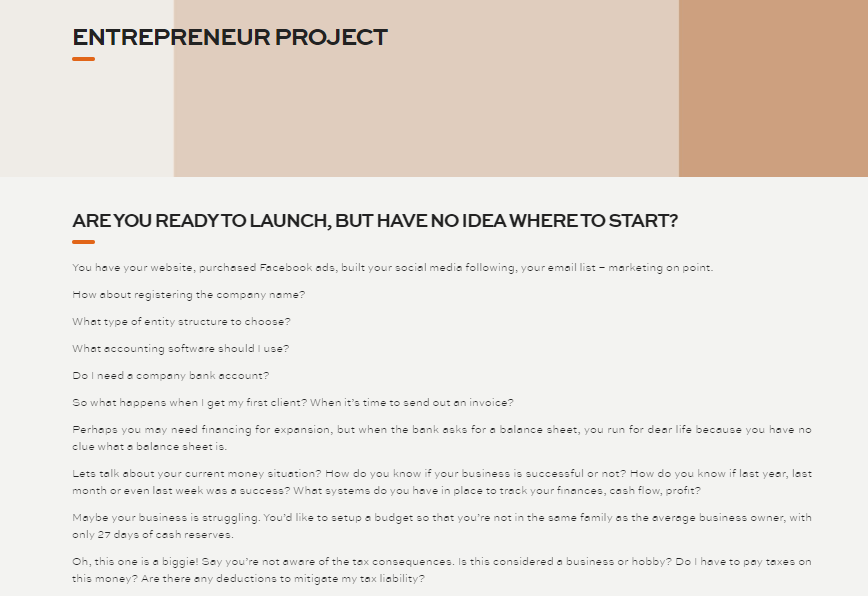 Blogging is an integral part of every website, especially when you can write as brilliantly as Robyn. This is the go-to place for you to be up-to-date with recent developments in the business/financial world. Check it out by clicking this link.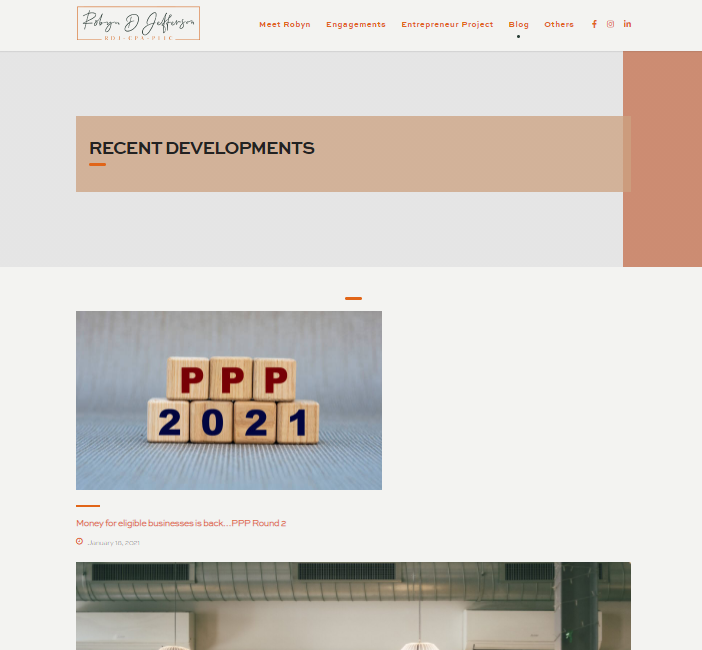 Contact Section
The Contact section is a permanent fixture on every page of the website. This is to provide visitors with a transactional intent to quickly fill out contact details to help Robyn with lead generation, sending newsletters, and helping visitors in availing her services.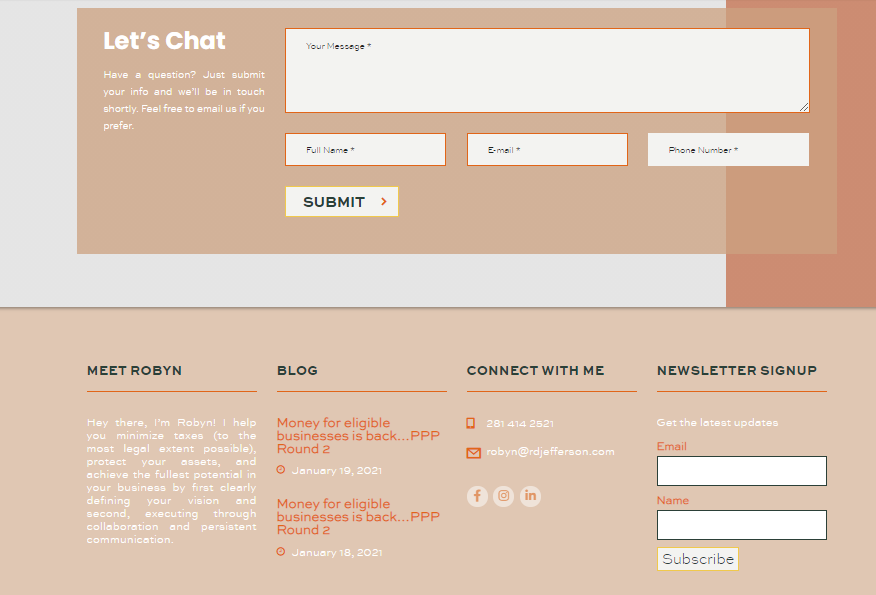 How Long Did The Project Take?
Working alongside Robyn was a total breeze, and we were able to deliver her the whole project in under 2 months, which is a feat we take great pride in!
Check it Out Yourself
As much as we love describing each element of the project, words and pictures can sadly only do so much justice.
It's time to go ahead and experience a modern CPA website for yourself. We would love to know your thoughts in the comment section!
Here's a link to her website.
A Parting Note
If you're also feeling the entrepreneurial spirit, don't get discouraged! Take that first step. Make that leap!
Setting up your own business has never been easier! It's all about starting on your idea, seeking the right advice, getting the correct mentor, and hiring the right agency.
Smart people would take a leaf out of Robyn's book and just get started on their ideas today. Don't worry about failure. If you do everything right, there can be no failure.
Lastly, wherever you feel confused, remember, we're always here to guide you and leverage our dedication in bringing your vision to life!
So don't hesitate to approach us for anything related to your business or startup. We are a complete Digital Marketing Agency.
From Website Design, Mobile App Development, Digital Marketing, Increasing your searchability on Google (SEO), Social Media Management, and much more,
Get a free consultation for your startup/idea/business here!