Providing an exciting visual experience to your website's audience may seem like an uphill task. Especially when you lack optimal photography and graphic designing skills.
But does that mean improving visual experience is impossible for you? The simple answer is no.
You don't need to be Ansel Adams to create an incredible visual experience.
Improvement can begin as soon as you start using relevant stock images or hire a decent photographer to provide original, relevant pictures.
Now using stock photos is easy and much less time consuming compared to hiring a photographer. Hence why most website owners love them.
But..
What about the people who actually go through the spiel of hiring a photographer and using real images. Are they enjoying an edge which many others seem to overlook?
In this blog, we'll be settling this debate between stock vs real photos so you can learn about both and make a wise decision. Firstly though →
What Are Stock Photos?
Stock photos are pictures clicked by photographers that can be licensed for various uses. They are usually created to be sold multiple times to different customers for various purposes, such as advertisements, websites, brochures, and more.
They are often generic in nature, rather than specific to a particular product or brand. This allows them to be used in various contexts and by a wide range of consumers.
Some stock photographers even allow free use of their images to earn fame and recognition.
Where to Get Stock Photos from?
Getting access to a pool of stock photos only takes a few clicks on the web. However, since uniqueness is important, many reliable stock agencies sell high-quality imagery at affordable prices.
Here are some trusted names for you:
Stock Photos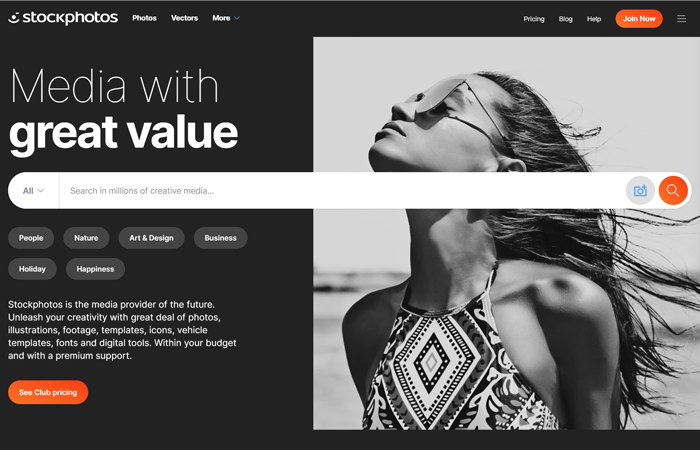 Stockphotos.com offers unique pictures for as low as $0.30!
Stock Photos maintains a library of 8 million photos, covering almost every subject. Not just this, but it regularly updates its database with unlimited new assets every month.
Apart from pictures, you can also download HD videos, vectors, and illustrations from the site.
Downloading is super easy and can be done with a user-friendly interface. Just go to the search bar on the homepage, enter your keyword or upload a sample image to find related pictures.
Hit enter and your pool of exclusive stock images is right there for the taking!
iStock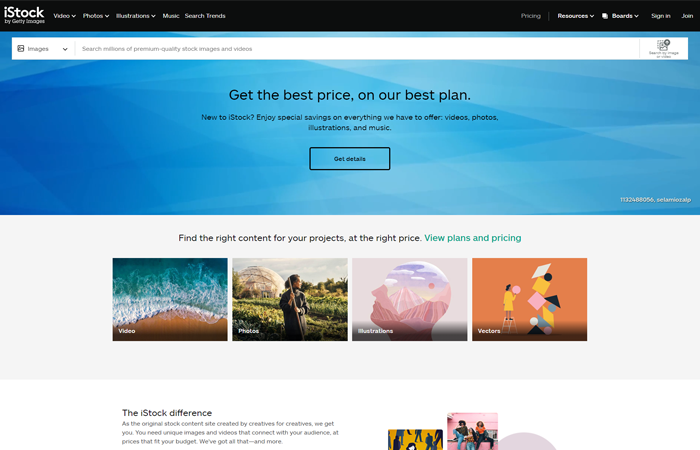 iStock is another big name in the online stock photo industry and offers millions of images covering a multitude of industries.
It has a highly accessible image search feature with a highly sorted visual collection. iStock organizes photos relevant to various categories like landscape, science, nature, holiday, technology, etc.
The pictures you use depend on the type of website you want to use the images on.
Adobe Stock
When it comes to pictures, no one can ignore the name: Adobe Stock. The software giant Adobe Inc owns this platform.
Like many other online business owners, you can also fulfill your visual needs through this website. Adobe enables you to first get a preview of its watermarked image inside your design. If it's good to go, you can purchase the license and use the image on your page.
Besides multiple packages for premium pictures, it also offers free photos. They also have a creative word cloud app, which allows you to easily organize pictures and videos.
What Are Original Photos?
Original pictures are those you capture exclusively for your business or personal use. Usually, marketers hire a professional photographer to take these photos. But, if you have suitable photographic skills, you can take premium photos for your website.
If that is eventually the route you chose to take, then a basic camera won't suffice. You'll need essential photography gear to ensure professional results such as →
Filters
If you are new to photography, you may confuse filters with virtual editing ones found in many camera apps.
However, the filters used in professional photography are different and used to enhance the color, block light waves, and minimize reflection.
The right filter to use depends on your specific need.
Some commonly available filter options are: Polarizing, Neutral Density, and Ultraviolet filters.
Tripod
It is helpful to use a tripod when you have a long exposure time.
Instead of holding the camera for an extended period, you can use this stand to avoid shakiness.
It also helps you conveniently adjust angles to the left, right, up, and down.
Camera Straps
Always remember to wear a camera strap if you're covering an event or taking snaps of your travel journey.
You never know when the right moment for the best shot comes. Therefore, with a strap attached to a camera, you can capture awesome photos instantly.
Reflectors
Need to capture images in natural lighting? Reflectors are your answer!
Reflectors can be very helpful in redirecting the light to a specific object. Some people also use external flashes, but reflectors are much cheaper and properly enhance the natural light effect.
Flash
If you're taking pictures in an area with less light, you might need an external flash. Photographers use this tool when setting up a lighting kit is impossible.
Stock Photos vs. Original Photos
Now that you're aware of the primary difference between stock and original pictures, let's compare the two →
Taking original photos requires a hefty amount of budget. And even if you plan to do photography on your own, you'll still need to purchase essential equipment.
Moreover, where will you shoot? What's the appropriate scene you want to capture and which studio will you need to rent are all questions that require a lot of time and finances.
Likewise, if the studio is far away from your location, you must also bear the traveling expense.
To get free from this hassle, you can hire a professional photographer. But expert photographers charge a sizable amount. And you'll still need to arrange many aspects of the shoot.
On the flip side, premium stock imagery is a lot cheaper.
Business owners can choose from various plans available on stock photo sites and get their required photos within seconds.
Stock photos are very handy and cost-effective for Start-ups and growing businesses on a budget.
On the other hand, professional photography can be good for well established businesses and brands who like to deliver an impeccable image and don't have budget constraints.
Hiring a photographer for original pictures seems easy and stress-free. However, don't forget that you must communicate your brand's idea to the photographer.
At times, you may also need to be present at the shoot location. Once the pictures are shot, they usually require an edit.
Be prepared to put extra time and effort aside from routine business activities if you plan to get original pictures.
Stock photos often need editing, but at least they're readily available.
You just need to visit the website, search for the images you want, and edit them using any photo editor.
The process is hassle-free and fast.
Without any doubt, original images are unique. Being an owner, you have the copyright to the image. They help your brand create a distinctive reputation in the market.
Unfortunately, it's not the case with stock pictures. You don't have exclusive rights to the pictures. And even if you use premium stock photos after purchasing the license, other people can buy the same photo.
When consumers notice those same common photos on your site, they may question your credibility. But creative professionals have come up with a solution for that.
They purchase stock photos and edit them according to the brand's core design.
This is one smart way to stay within the budget and remain unique.
Bonus Tip: If your brand has a reputable name, try to opt for original images. You can use less common paid stock images if you have a budget and time constraint. But make sure to edit them according to your brand theme.
Search Engine Optimization
Many marketers relate stock imagery with poor SEO results. However, the concept doesn't apply to every stock picture.
Common and poor-quality stock images can never provide a commendable user experience. Consequently, the SEO impact will be negative.
But you can choose high-quality stock photos and edit them for a remarkable user experience. This will allow stock pictures to contribute positively to your SEO efforts.
When it comes to real pictures, one definite thing is their uniqueness. You can enhance the user experience with a distinctive visual appearance, but photos need to be of premium quality.
Unique and high-quality photos are ideal for SEO. But there will be no use in relying on original images if they are dull.
Thing to note: Ultimately, the main thing that matters in boosting SEO efforts is the user experience. As long as you provide an impressive experience to visitors, you can use any photo, either stock or original.
Considering licensing rules is essential when using stock photos. You do not own the images' copyrights even after paying the fee.
You can use the pictures multiple times but cannot sell them to anyone since the person who captures the photos is still the owner.
Additionally, violating licensing rules is a crime, and the owner can sue you.
Compared with stock pictures, original photos are free from copyright issues. As long as your image is not defaming any other brand or entity, there's no legal infringement in using the picture.
Wrapping It Up
From the above points, you must have understood the relationship between original and stock images with respect to budget, time, convenience, and SEO. That's why the selection criteria solely depends upon your specific business needs.
Analyze your current business position and go through the above details again. After finding a reasonable option that suits your website, you will feel at ease. Good luck!